Fire restoration is the process of cleaning, repairing, and returning properties to their pre-fire condition. It includes assessing damage, cleaning soot and smoke residues, and addressing water damage to prevent further issues like mold growth.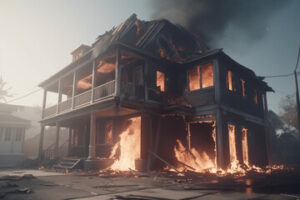 Acidic smoke residues can cause the etching of glass and rusting of metal within minutes, while soot can stain anything it touches, including wood, carpeting, rugs, and more. Contact All Pro Services for professional help.
Fire damage can leave behind a lot of materials that are vulnerable to moisture, rust and decay. This can make a home or building look terrible and may lead to health problems for anyone living inside the property. This is why it's so important to take action and contact a professional to perform fire restoration as soon as possible after the fire.
During the fire damage assessment, the professional will use inspection checklists to note what types of materials were affected and which are still intact. They will also determine what can be cleaned and what must be discarded. They may also recommend that you replace certain items to prevent future damage and to protect your belongings.
The cleaning phase is often the most labor-intensive part of fire restoration. This involves removing all signs of smoke and soot from surfaces, including carpeting. Deodorizers are also used to get rid of any remaining odors that are left over from the fire. If water damage has occurred, sanitizers and antimicrobial agents might be used to prevent mold growth in the future.
Another key thing to note is that it's extremely dangerous to return to a home or business until the fire department gives the all-clear. If you must enter, it's a good idea to wear masks to avoid breathing in smoke and soot, which can cause respiratory problems. It's also a good idea to wear protective gloves when touching anything that has been exposed to the fire.
After the cleaning and assessment phases are complete, it's time to start repairing the damage that was caused by the fire. If a portion of the roof or walls were damaged by heat, the professional will seal and tarp these areas to prevent further water damage. They will also dry out any materials that were affected by the water and use fans to help speed up this process.
They may also use chemical solvents to remove any residue or stains that remain. This can include rubbing alcohol, paint thinner, vinegar and specially formulated soot removers.
Clean up
After the fire is out, the property must be cleaned. This involves removing debris and soot from the property, cleaning up the structure of the building and repairing or replacing damaged materials. The team will also sanitize the area and apply deodorizers to remove any unpleasant smells. Finally, the team will board up or secure the property to prevent theft or vandalism.
The cleaning process is one of the most labor-intensive parts of fire restoration. It involves scrubbing all surfaces and contents, including furniture, for soot marks and stains. The team will also clean ducts, which may be covered in soot and contaminated with smoke residue and odor. The team will then use deodorizers to completely eliminate any lingering odors from the fire.
It is important to have a professional help with the cleaning and restoration after a fire because it can be extremely dangerous. Soot is acidic and corrosive, and it can damage walls and other surfaces. The longer it is left on a surface, the more damage it will cause. If the area is not properly cleaned and sanitized, the home or business could become susceptible to mold and other harmful bacteria.
If your home or business was damaged by a fire, it is important to contact a fire restoration company right away. They can repair the damages and restore your home or business to its original condition. The professionals can also assist you with the insurance claims to minimize the financial impact of the fire.
Recovering from the effects of a fire can be very stressful and time-consuming. However, it is important to take things one day at a time. Trying to do everything at once can make the recovery process more difficult. Focus on what is most important and try to stay positive. By staying positive, you will be able to move forward and get your life back in order.
Repair or replace
Fire damage can be devastating, and often requires more than just a thorough clean. If the building's structure has been weakened, or items destroyed in the fire, it may be necessary to replace them. It is also possible that lingering smoke or water damage could affect the ability of a home to function.
A fire restoration company can help you assess the damage to your property and determine what steps are necessary to repair or rebuild. They can also work with your insurance company to help you understand what is covered by your policy. In some cases, they can even act as an advocate to ensure that you receive the compensation you deserve.
The first step of any fire restoration process is to remove any standing water. This is typically done by using high-powered fans, dehumidifiers, and other specialty equipment. This helps prevent secondary damage, such as mold growth, and it also makes it easier to clean the affected area. The next step is to dry out the property. This involves a thorough cleaning and sanitization to remove soot, smoke residue, and odors. This is a delicate process, and it's important that it's done correctly to minimize future damage.
Once the area has been thoroughly cleaned, the restoration team will start to repair any damage caused by the fire. This may involve repairing or replacing walls, ceilings, or floors. They will also use special cleaning agents to salvage as much of the furniture, appliances, and other contents as possible. They will also neutralize any odors and dispose of anything that is beyond saving.
It's also common for this phase of fire restoration to include packing up and storing personal belongings. This can be a difficult process, especially for families with small children. However, it's essential to protect valuable items from further damage by removing them as soon as possible.
It's also important to find a fire restoration company that offers 24/7 availability. This will help mitigate the damage to your property as quickly as possible, since soot can be extremely acidic and corrosive. It's also helpful to choose a fire restoration company that offers a warranty or guarantee on their work. This shows that they believe in the quality of their work and are willing to stand behind it.
Rebuild
Fire restoration involves a lot of work. It can include property board up, demolition and reconstruction, debris removal, cleaning and sanitizing, odor removal and more. In addition to repairing and restoring the contents of your home or business, it also includes rebuilding damaged structural elements like beams, columns and load-bearing walls. Professionals are trained to do this safely and quickly.
The first step in the fire restoration process is an assessment. The technicians enter the property once it's deemed safe by firefighters and use inspection checklists to note all types of damage. They'll also determine what can be saved and what needs to be discarded.
After a thorough inspection, they can begin the cleanup process. This will include the removal of smoky, greasy residue from surfaces, including walls, floors and ceilings. Then they'll clean and deodorize all items that can be saved, including furniture, clothing and appliances. They'll also clean and deodorize ducts and vents, which can be difficult to reach in a home or business.
In some cases, the restoration team will remove any items that can't be restored. This is usually done to prevent contaminated items from being accidentally reintroduced into the home or business. In addition, it may be necessary to remove and dispose of electrical machines and appliances, which can still store electricity even after they've been unplugged.
The next part of the process is to clean and disinfect everything that can't be salvaged. This is often the most time-consuming and complicated part of fire restoration, but it's also one of the most important. Soot, ash and other contaminants can cause long-term damage to your home or business if not cleaned properly. During this phase, the fire restoration experts will go through your entire home or business. They'll clean and disinfect everything from the attic to the basement, removing any lingering odors or harmful particles.
After the cleanup and repair processes are complete, the restoration professionals will conduct a final inspection of the property to ensure that it meets all industry standards. They'll also check for lingering issues, such as smoke odors or mold growth, and address them accordingly. Once they're satisfied that the property is ready, they'll notify you and your insurance company so you can move back in.